itunes, cover flow, and nostalgia
Sep. 15 2006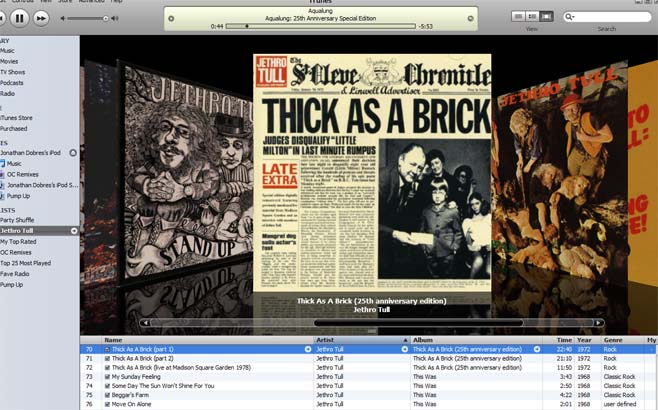 So there was a series of amazing iTunes/iPod announcements this week. Movies on tap at the store. The Nano has mated with the Mini. The Shuffle finally looks cool. Also, iTunes got a slew of new features, including Cover Flow.
Cover Flow might seem like a piece of superfluous fluff added to an already bloated program, but it's so much more. Its primary purpose is, I think, to draw attention to the fact that Apple isn't just in the business of sound anymore. Album art is one way of reminding us that Apple traffics in photos, TV shows, and soon, feature films. More importantly, however, Cover Flow adds a certain tactile charm that's been missing from the mp3 experience for as long as there have been mp3s. Using Cover Flow is almost, almost, like flipping through a rack of LPs or CDs.
I didn't think much of it until I successfully added the album art for all of my Jethro Tull. Staring at the old covers, I was instantly taken back to my family's basement in Jersey. My dad loves Tull. In fact, in the early days of the Interweb, he went by the username jtull. He had all of their old records, and I used to love looking at them whenever he pulled them out. Every so often he'd take out his flute and use some Jethro Tull to practice (Jethro Tull bears the odd distinction of being one of the few rock ensembles to feature a lead flautist).
I've been in Boston for over five years now, but as long as I have the music that my dad introduced me to, I feel like I'm not that far from home. Thanks, Cover Flow, for reminding me of that.